The following image is an excerpt from a book "The Definitive Guide to Body Language" published in the year 2004, just about the same time as "The Game". It is an interesting irony you will realised, if you have read "The Game".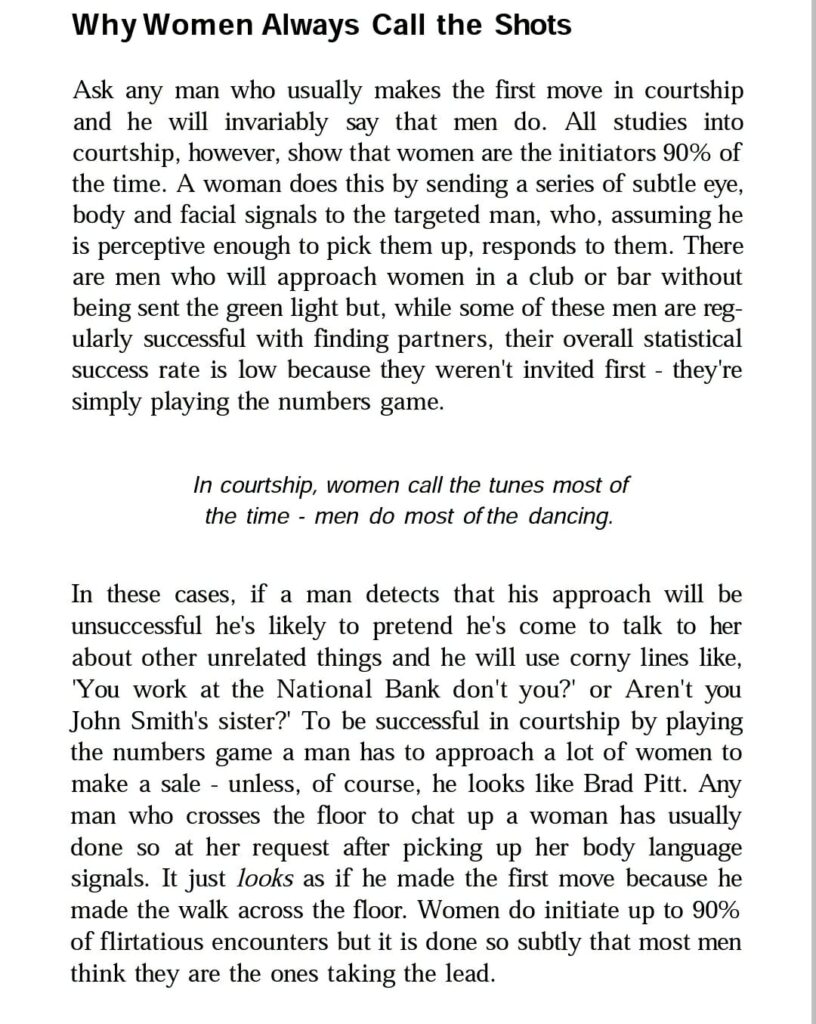 Before you read further, please read the above excerpt.
Women invite, Men approach. And this dance hasn't changed.
Let the new age pick up gurus tell you otherwise. Let the dating coaches around the world make you believe, that to cold approach a woman is an act of courage. Let your female friends tell you that it is flattering, when a man walks up to them in a bar to start a conversation and hence encourages you to do the same; I disagree with their narratives about approaching women.
As you have read above, the courtship dance as I like to call it, begins with a woman giving non-verbal cues/signals to a man they fancy and are curious about, inviting him to approach her and lead things forward. The man must be adept and carry a presence of mind to leap into action in twinkling of an eye. Once he picks on these cues he physically approaches the woman.
And this is how the dance begins. Very unlike of how it is imagined and acted upon by the common guys out there.
Usually, most guys just walk up to a girl or set of girls, devoid of any chemistry or a hint of communication in the air before walking up. This act was made popular by the book "The Game" authored by Neil Strauss. It is known as Cold Approaching. It is still swear and practiced by lots of guys across the world.
In my well formed and thought out opinion, the act of cold approaching uninvited is not the language of courtship dance. Once in a while it's okay, considering the context of the moment. But as a practice to approach and meet women, it's inappropriate, bothersome and un-appreciated by women at large. Not only the women, the guardians of the venue finds annoying because a point comes when it becomes too often and too much resulting into some women expressing displeasure to the people working in the particular venue.
Few more words on the inner reality of an unwarranted approach; guys would argue that they have received positive responses from women in ways of phone number, welcoming words, complimentary phrases, investment in conversations and laughters; so I am wrong.
Well, let me enlighten you. Women have their own ways of dealing with certain aspects of life. Politeness, avoiding conflict and aggression, smiling and saying "sure" are some of the ways they navigate certain aspects of life.
Women give away their phone numbers as a way to ward off an unwarranted approach; or seeming entertained by a man's approach has more to do with their politeness than anything less. (Off-course I am not talking about each and every uninvited approach. One can always point out an otherwise example). However, I am not talking about exceptions here.
A common scenario I witnessed is man pulling a chair to sit with girls he just approached; and the girls in their head are thinking "I hope this remains short" or "How do I get out of this?".
This happens a lot.
Coming back to the first paragraph of the excerpt from the book:
A woman does this by sending a series of subtle eye, body and facial signals to the targeted man, who, assuming he is perceptive enough to pick them up, responds to them.
The key words in the above sentence are "targeted man". As I said earlier, women invite men approach. But women don't invite every or any man, as this invitation is reserved for only few men. These few men have taken time and put in efforts to learn the language of men-women dynamics. They have a different narratives about women and how to relate to women as a man. And most importantly they are willing to take a leap of action in the first look.
It takes a great deal of qualitative work to become a targeted man. And this is where most guys lacks mental bandwidth to travel through this path or they lack a proper guidance.